We are very proud to release our carbon fiber molded Ahacarbon Aero Kit for the TESLA Model S.
Our aggressive Carbon Fiber Body Kits improves the curb appeal of your Model S while increasing high speed downforce as well as better handling at higher speeds. This kit can be ordered as a full 6 piece kit, or individual pieces. Each of the pieces install directly under your front bumper, or attached to the side rocker panels, and over the stock rear diffuser. Our kit requires no cutting and there is no risk in damaging your Tesla Model S's paint or underbody in any way. It can be removed at any time as well. Our kits are held on with double sided tape and self tapping screws. Our Carbon Fiber Package is made from Genuine Molded Carbon Fiber which is all woven carbon fiber. They are UV coated which insures years of beauty without yellowing of fading.
Fitment:
Model: for Tesla Model S (60 60D 85 85D P85D) Sedan
Year: 2012 2013 2014 2015

Pls check the above fitment information or send us car pictures to verify before order, thanks a lot!
Features:
Material: Quality 3X3 weave carbon fiber
Functions: Light and durable, create a new iconic look, enhancing the aerodynamic performance of the car
Processing: 3D design, CNC moulding, test installation on real car, fitment guaranteed
Surface finish: Double layered UV-Protected clear coating, shining and smooth surface
Packing: Multilayer protected export carton, shockproof and crashproof
Installation: Self-tapping screws and tape are included in the package. Recommend professional installation
RELATIVE CARBON FIBER BODYKITS FOR YOUR TESLA MODEL S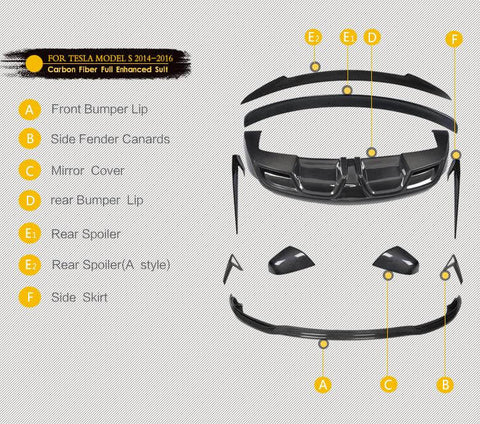 make-tesla,make-tesla-model-model-s,make-tesla-model-model-s-year-2012,make-tesla-model-model-s-year-2012-body-base-sedan-4-door,make-tesla-model-model-s-year-2013,make-tesla-model-model-s-year-2013-body-base-sedan-4-door,make-tesla-model-model-s-year-2013-body-performance-sedan-4-door,make-tesla-model-model-s-year-2014,make-tesla-model-model-s-year-2014-body-base-sedan-4-door,make-tesla-model-model-s-year-2014-body-signature-sedan-4-door,make-tesla-model-model-s-year-2015,make-tesla-model-model-s-year-2015-body-base-sedan-4-door,make-tesla-model-model-s-year-2015-body-85d-sedan-4-door,make-tesla-model-model-s-year-2015-body-p85d-sedan-4-door,make-tesla-model-model-s-year-2015-body-signature-sedan-4-door