Ahacarbon carbon fiber rear spoiler for Audi R8 V8 V10 Coupe 2008-2015, is made from Genuine Molded Carbon Fiber Spoiler. You can add a sporty look to your Audi R8 V8 V10 Coupe with our carbon fiber spoiler wing. We are very proud to offer you carbon fiber molded trunk spoilers. Following the line curvature of your R8 trunk hatch the spoiler has a better profile that gives your Audi an added performance aesthetic, dramatically improve styling. We designed our rear trunk spoiler also to help improve the aero efficiency of Audi R8 Coupe. Using the latest in aero simulation and CAD technology, we engineered a spoiler that looks great, our trunk wing spoiler is simple to install (no drilling) just with double sided tape, doesn't impede the rearward visibility of a driver, and most-importantly, reduces overall drag and increase rear downforce (helping to improve stability at speed)!
Fitment:
Model: for Audi R8 V8 V10 GT Coupe
Year: 2008 2009 2010 2011 2012 2013 2014 2015 (Pre-facelift)
Note: Not for Convertible Models
Pls check the above fitment information or send us car pictures to verify before order, thanks a lot!
Features:
Material: Quality 3X3 weave carbon fiber
Functions: Light and durable, create a new iconic look, enhancing the aerodynamic performance of the car
Processing: 3D design, CNC moulding, test installation on real car, fitment guaranteed
Surface finish: Double layered UV-Protected clear coating, shining and smooth surface
Packing: Multilayer protected export carton, shockproof and crashproof
Installation: Tape included in the package for easy installation, perfect fitment, no modification
RELATIVE CARBON FIBER BODYKITS FOR YOUR AUDI R8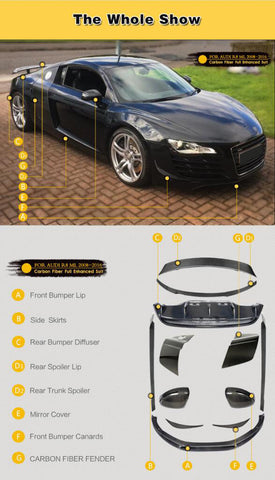 make-audi,make-audi-model-r8,make-audi-model-r8-year-2008,make-audi-model-r8-year-2008-body-base-coupe-2-door,make-audi-model-r8-year-2009,make-audi-model-r8-year-2009-body-base-coupe-2-door,make-audi-model-r8-year-2010,make-audi-model-r8-year-2010-body-base-coupe-2-door,make-audi-model-r8-year-2011,make-audi-model-r8-year-2011-body-base-coupe-2-door,make-audi-model-r8-year-2012,make-audi-model-r8-year-2012-body-gt-coupe-2-door,make-audi-model-r8-year-2012-body-base-coupe-2-door,make-audi-model-r8-year-2014,make-audi-model-r8-year-2014-body-plus-coupe-2-door,make-audi-model-r8-year-2014-body-base-coupe-2-door,make-audi-model-r8-year-2015,make-audi-model-r8-year-2015-body-plus-coupe-2-door,make-audi-model-r8-year-2015-body-base-coupe-2-door