Ahacarbon carbon fiber front lip for 2015-2019 BMW X6 F16 xDrive35i xDrive50i M Sport SUV 4-Door, raise the level of style on your X6 M Sport.
Front bumper lip can reduce front end lift, as air passes over the anterior lip down force is created. This provides your vehicle with better traction and control which leads to overall better performance. This carbon fiber front spoiler also changes up the look of the front end and fills the space under the bumper making your car front much more aggressive.
Ahacarbon carbon fiber front bumper lip spoiler for BMW X6 F16 M Sport SUV is backed by our fitment and quality guarantee to ensure that this product is going to fit well and hold its quality. Our front spoiler is designed using state of the art 3D laser scanning and CAD technology for precision fitment. This front bumper lip is made of authentic, hand laid carbon fiber material with pre-impregnated carbon fiber cloth and epoxy resin and finished in a beautiful gloss clear coat for UV-protection and durability.
Fitment:
Model: for BMW X6 F16 (xDrive35i xDrive50i) M Sport Sport Utility
Year: 2015 2016 2017 2018 2019
Note: Not for BMW X6 F16 Base X6M Modles
Pls check the above fitment information or send us car pictures to verify before order, thanks a lot!
Features:
Material: Quality 3X3 weave carbon fiber
Functions: Light and durable, create a new iconic look, enhancing the aerodynamic performance of the car
Processing: 3D design, CNC moulding, test installation on real car, fitment guaranteed
Surface finish: Double layered UV-Protected clear coating, shining and smooth surface
Packing: Multilayer protected export carton, shockproof and crashproof
Installation: Self-tapping screws and tape are included in the package. Recommend professional installation
RELATIVE CARBON FIBER BODYKITS FOR YOUR BMW X6 F16 M SPORT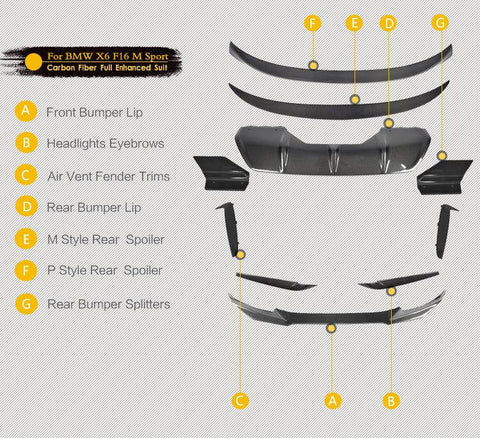 make-bmw,make-bmw-model-x6,make-bmw-model-x6-year-2015,make-bmw-model-x6-year-2015-body-f16-xdrive35i-m-sport-sport-utility-6-door,make-bmw-model-x6-year-2015-body-f16-xdrive50i-m-sport-sport-utility-7-door,make-bmw-model-x6-year-2016,make-bmw-model-x6-year-2016-body-f16-xdrive35i-m-sport-sport-utility-8-door,make-bmw-model-x6-year-2016-body-f16-xdrive50i-m-sport-sport-utility-9-door,make-bmw-model-x6-year-2017,make-bmw-model-x6-year-2017-body-f16-xdrive35i-m-sport-sport-utility-10-door,make-bmw-model-x6-year-2017-body-f16-xdrive50i-m-sport-sport-utility-11-door,make-bmw-model-x6-year-2018,make-bmw-model-x6-year-2018-body-f16-xdrive35i-m-sport-sport-utility-12-door,make-bmw-model-x6-year-2018-body-f16-xdrive50i-m-sport-sport-utility-13-door,make-bmw-model-x6-year-2019,make-bmw-model-x6-year-2019-body-f16-xdrive35i-m-sport-sport-utility-14-door,make-bmw-model-x6-year-2019-body-f16-xdrive50i-m-sport-sport-utility-15-door