What are the best aftermarket BMW F82 M4 carbon fiber rear spoilers?

We here at Ahacarbon are always supply you with new products to fit your BMW models. These brand new BMW F82 M4 PSM Style Carbon Fibre rear trunk wing are the perfect addition to add to you F82 M4.

You'll love the squared off angles and how this rear spoiler lip sits on the flattened portion of the back of the trunk rather than on the top of the trunk. The carbon fiber spoiler sits across the top edge/rear section of the trunk boot where the rear line ends to give that final dimension of extreme aesthetics, and most-importantly, reduces overall drag and increase rear downforce (helping to improve stability at speed)! The full carbon fiber construction is very high quality and lightweight.

This is definately a great first choice on anyone's journey in the aftermarket carbon fibre body kits world and truly adds quite a dynamic look to the stock BMW M4, and will put a facelift on your BMW F82 M4.

This BMW spoiler is made with real carbon fiber and comes in a glossy carbon fiber finish. Before each product is released to the public, they will go through rigorous tests and quality control to ensure the quality you expect. The installation will take no longer than 20 minutes as no drilling is required. Just add double-sided tape to the bottom surface and the spoiler will be ready for installation.
Fitment:
Model: for BMW 4 Series F82 M4 Coupe
Year: 2015 2016 2017 2018 2019 2020
Pls check the above fitment information or send us car pictures to verify before order, thanks a lot!
Features:
Material: Quality 3X3 weave carbon fiber
Functions: Light and durable, create a new iconic look, enhancing the aerodynamic performance of the car
Processing: 3D design, CNC moulding, test installation on real car, fitment guaranteed
Surface finish: Double layered UV-Protected clear coating, shining and smooth surface
Packing: Multilayer protected export carton, shockproof and crashproof
Installation: Tape included in the package for easy installation, perfect fitment, no modification
RELATIVE CARBON FIBER BODYKITS FOR YOUR BMW M3/M4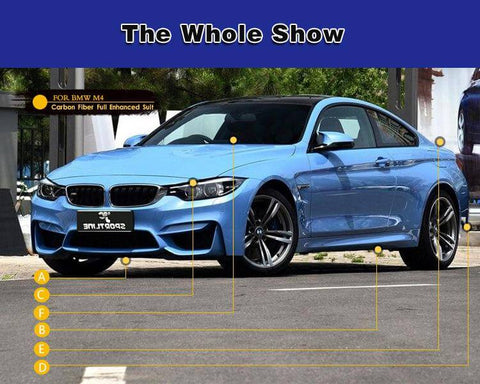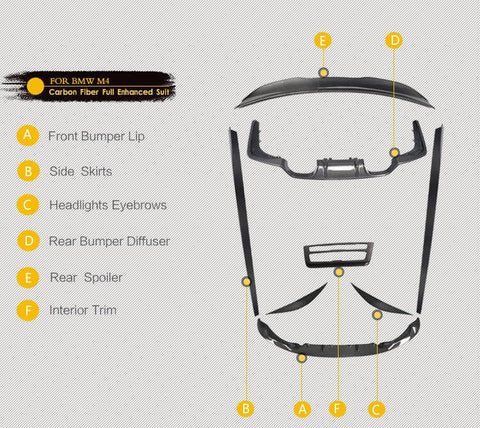 make-bmw,make-bmw-model-f82,make-bmw-model-f82-year-2015,make-bmw-model-f82-year-2015-body-m4-base-coupe-2-door,make-bmw-model-f82-year-2016,make-bmw-model-f82-year-2016-body-m4-gts-coupe-2-door,make-bmw-model-f82-year-2016-body-m4-base-coupe-2-door,make-bmw-model-f82-year-2017,make-bmw-model-f82-year-2017-body-m4-base-coupe-2-door,make-bmw-model-f82-year-2018,make-bmw-model-f82-year-2018-body-m4-cs-coupe-2-door,make-bmw-model-f82-year-2018-body-m4-base-coupe-2-door,make-bmw-model-f82-year-2019,make-bmw-model-f82-year-2019-body-m4-cs-coupe-2-door,make-bmw-model-f82-year-2019-body-m4-base-coupe-2-door,make-bmw-model-f82-year-2020,make-bmw-model-f82-year-2020-body-m4-cs-coupe-2-door,make-bmw-model-f82-year-2020-body-m4-base-coupe-2-door